Greetings De Buck Brother or  DDB73 / Diedrick,

Looks like we are scheduled to meet this round and look forward to playing one of the Fighting De Buck Brothers!!

I am off during the coming week, on vacation and would have time to play our match more that likely.  There is an 8 hour difference between us and if a certain day and time works for you, please let me know and will do what I can to make it happen.

And congrats on all the positive reviews on your Tournoi de Melle, from what I have read, a great success for your 1st organized and run tournament between you and your brother and anyone else that helped with the tournament.

Regards,

Gonzalan aka Tony
Hi Tony,

Thanks for the comments. Our tournament was a great success indeed (30 players on 4 new preprinted maps in Swiss rounds) and we hope all of them had a great time. It was nice to see participants of 3 countries (Belgium, the Netherlands and France) of whom some drove for 3 or even 4 hours to be there. It was even nicer to see some of our friends back in real life instead of online.

It is great you have the week off next week but I do have to work so that leaves only some evenings for me (early afternoon your time).
I'm available to play :
* Sunday June 5 : from 9:00 pm till 10:30 pm
* Tuesday June 7: from 8:00 pm till 10:30 pm
* Thursday June 9 : from 8:00 pm till 10:30 pm
* Sunday June 12 : from 2:00 pm till 10:30 pm
All times mentioned are possible starting times my time. Like you said, I'm 8 hours ahead of you so 8:00 pm my time is noon your time.

Can you tell me what day and time you prefer ?

Please notify me at least 48 hours before so I will be able to read your message. Keep in mind : if you send a message after 3:00 pm your time it will probably be around 8:00 pm my time (noon your time the next day) before I will be able to read it as I don't read personal mail in the morning or during the day.

Best regards,

DDB73 aka Diederik
First, obviously, my apologies for the misspelling of you 1st name Diederik, was going from memory and should have made sure. 

Great that you had players from far and wide come by to the tourney and think I did read about someone's 8 hr round trip, but was well worth their time!

In order to give you plenty of prep time, we can go with Sunday the 12th, 07h00 for me, 15h00, if that would work for you. If a better time for Sunday works for you let me know. 

Until then, good luck in all your online tournaments. 

Tony
Hi Tony,
Apologies are not needed

  I'm used to people misspelling my name. Even for Dutch speaking people it proves to be difficult...
I'm fine with Sunday the 12th at 15:00 pm my time (07:00 am your time) if that is not to early for you on a Sunday morning ? 

If need be, we can also start later. Just let me know.
I'm not only playing online tournaments. I just got home from Ravenel (France) where I participated in a face-to-face tournament today. Had lots of fun but is was a long day (left at 06:00 this morning and got home at 23:30 this evening).
Good luck to you too for your games.
See you soon,
Diederik
Yes .... and ddb73 is a very good irl face to face player ! Place 2 on the Ravanel tournament yesterday !

Good match to you !



Messages

: 250


Date d'inscription

: 31/08/2015


Age

: 46


Localisation

: 67



Gee, thanks for the encouragement Eric!

 Yes, I saw the results of the Tournoi M44 de L'oise and apparently well worth DDB73's nearly 18 hour day!! Well done to you Diederik!!
No, 07h00 for me is not a problem, wife normal up at 05h00 or 06h00 most days even on the weekends and I hear her making noise and I am up soon after myself!

Will see you Sunday and enjoy the rest of your week and hope you get rested, but 2nd place eases the pain of your long day and trip!
Gonzalan aka Tony
OK
See you sunday ! Enjoy your week off

Diederik
The General in Charge leads the way.
Game 1
Gonzalan (Allies) vs DDB73 (Axis) : 2 - 8 medals / 14 - 26 figs / 0 - 1 obj
Replay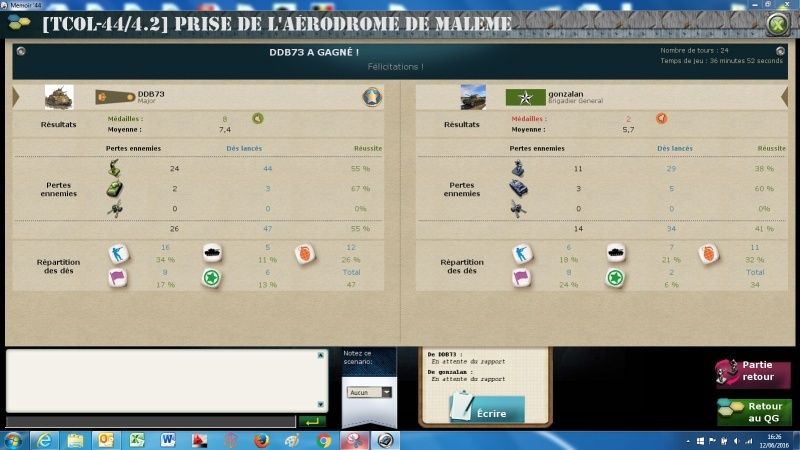 The stats tell it all : a 55% vs 38% hit rate on inf combined with 47 vs 34 dice lead to an easy 8-2 win for me. Bad luck with the dice for Tony makes him mis on critical moments (eg. Close Assault) and a successfull Counter-Attack paved the way for me.
Game 2
Gonzalan (Axis) vs DDB73 (Allies) : 6 - 8 medals / 24 - 30 figs / 0 - 0 obj
Replay
An almost equal hit rate makes for a much more tense game but 87 vs 64 dice give me the advantage. Gonzalan is forced to retreat his weakened units unless he is willing to sacrifice them. In this game too the misses on critical moments made the difference. Gonzalan is not able to finish off my weakend units and in return I get to finish off his.
Total
Gonzalan vs DDB73 : 0 - 2 games / 8 - 16 medals / 38 - 56 figs / 0 - 1 obj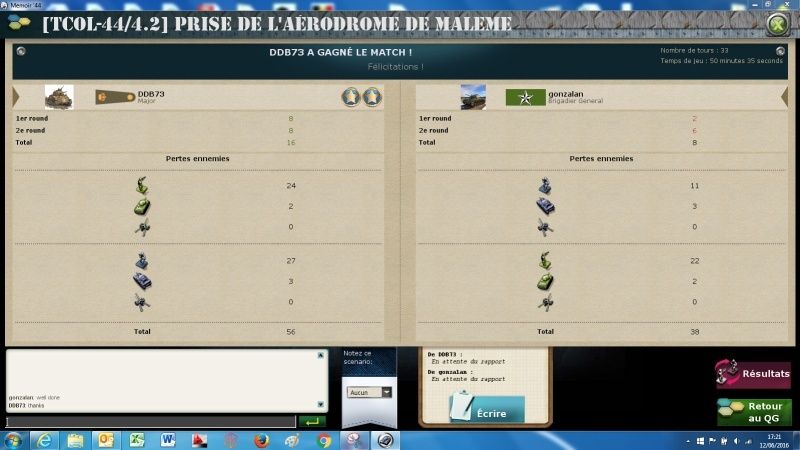 Thanks to Tony for the very nice and long chat before and after our games (in total we spent 3 hours talking and playing) and the best of luck to you in your next games.
Les Gaulois : avec moi !!! En avant !!!
Team Alpha: ALERT! ALERT! ALERT!  I now know the secret to the success of The Fighting De Buck Brothers!  They chat you up before the  game and talk you to Death and then proceed to beat the living daylights out of you during the game!!

But, I agree with Diederik, 2 nice games and a great chat, not sure if we had met before, but obviously have read of his exploits and he lived up the the billing.  
In the 1st, with maybe a kill or 2 more, perhaps things turn out different and the same for the 2nd game, a kill or 2 more at the right moment and perhaps I win the 2nd and make the match closer and at least get a 1-1 result.
Well done to Diederik and a good start for LES GAULOIS and now on my 3 teammates to pick me up, 18-8 result and Team Alpha in the hole quickly, but in the team score, 68-61 and not far back and can make up the difference in the next 3 team matches.
Good luck to all remaining players in the matches.
Oh, I confirm the results!

Gonzalan


Sujets similaires
---
Permission de ce forum:
Vous
ne pouvez pas
répondre aux sujets dans ce forum