Bonjour
AS tu des dispo en journée en semaine ? Sinon ça sera à partir de 22h...

_________________
Away To Hell !
Hello Yves,

je te propose ce vendredi 6 mai à 11h00 alors. ce la te convient il ?
Misterfunny
Bonjour
Arffff c'est le pont et je ne serais pas dispo....dommage...
a+

_________________
Away To Hell !
Bonjour,

Pas de soucis, est ce que lundi 10 mai ou mardi 11 mai à 22h00 est ok pour toi ?
A +
Bonjour
Le 11 mai cela me va trés bien !

Bon week end
Yves

_________________
Away To Hell !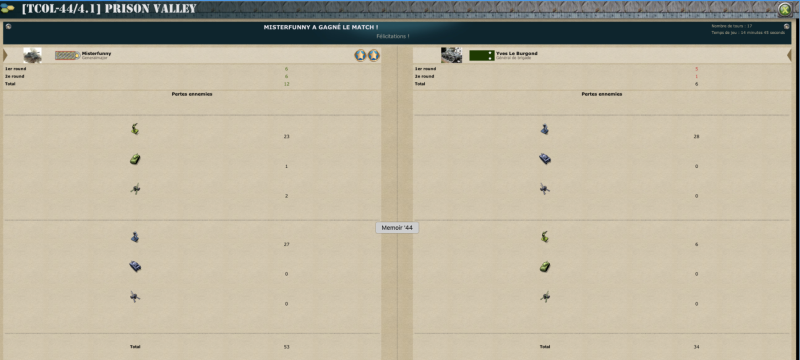 Bonsoir,
voici les résultats, un match aller tres disputé, et match retour j 'ai eu les cartes et le hit ratio.
A bientôt
Misterfunny
p.s sur le mac pour fair la copie d 'ecran : touche cmd +shift + 4 et cela s 'enrgistre sur le bureau....
Dommage Yves, mais c'est vrai que misterfunny ne laisse rien passer et si le sort penche un peu pour lui, c'est très dur... A suivre!



Messages

: 200


Date d'inscription

: 20/08/2015


Age

: 52


Localisation

: Grenoble



Oui sur à 27% contre 66% et pratiquement sans cartes de commandement. il a eut une belle main qu'il à bien mené.

_________________
Away To Hell !
La dernière fois que j'ai rencontré Misterfunny, il m'a pulvérisée au cool ! 

On ne peut rien faire contre le Misterfunny des grands jours !
Margaery 




Messages

: 53


Date d'inscription

: 30/04/2016


Age

: 45


Localisation

: Bourgogne



Bravo Misterfunny!!  Another Alpha victory and just need Darth Ben to do his part against Hilarion and end Tour 1 on a very good note for Alpha.
And Margaery, once again, always a pleasure to gaze upon your lovely visage and encouraging words to your teammates, great leadership!
Oh and if I recall, think I have a winning record against Misterfunny!!  Have not played him in a while, but when we did meet, got lucky and seemed to win most of our battles.

Gonzalan



Messages

: 121


Date d'inscription

: 28/08/2015



Hi Everyone,

First of all thank you for the feed-back and appreciate indeed all players like you. It has been a real pleasure each time to play with / against you. Very clever players as you are  and I learn a lot since my first match M44 in 2013. Each time i enjoyed (won or lost) with your fair play always and sens of humour as well. 
Thank you very much and wish all of you all the best for the remaining matchs. 
By for now and look forward to play with you again.
Misterfunny
---
Permission de ce forum:
Vous
ne pouvez pas
répondre aux sujets dans ce forum